Analytical & Valuation Services
A detailed and comprehensive compositional analysis is essential to determine the true worth of your material.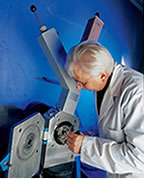 G. C. Metals Limited samples and analyses your material detailing the percentage and amounts of payable metals and impurities composed within. In addition, we use an independent Government licensed Assaying Company to ensure our assays are accurate. Based on these reports we are then able to provide you with all the details and reach quick settlement over your material, all within a very short space of time.

Rapid and specialised analysis methods ensure conformity with in-house criteria and legal requirements, in addition to environmental, health and safety standards.

Put a sample in an envelope to us and we will quickly analyse it and establish its reclaim yield for you or call us on 0116 254 2832 to find out more information.

We endeavour to analyse and value your material as quickly and efficiently as possible, using only the most advanced and precise techniques.
For further details of our
precious metals recovery
service, please continue to
browse the website and contact
Maurice Godley at
G. C. METALS LIMITED
53 Wellington Street
Leicester LE1 6HJ
UK
Tel: +44 (0)116 254 2832
Fax: +44 (0)116 285 8545
email to:
gcmetals@webleicester.co.uk
Sitemap